Funds Raised by Journey To Hope Participants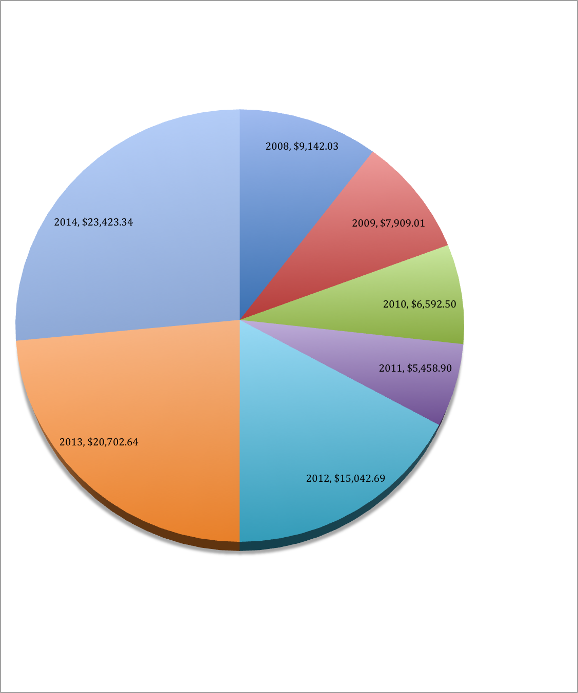 These funds are being used to provide suicide awareness and prevention information for the community of Moose Jaw, SK and surrounding health region and school division. Funds raised have been used in the following ways to date:
2008/2009
Provided curricula

for counsellors

"Warning Signs" information cards for youth
Suicide awareness and prevention resources for teachers
Supported suicide awareness training in various schools and colleges
2010
Purchased Tattered Teddies Workbooks and More Than Sad DVD Packages for School Counsellors in Prairie South & Holy Trinity School Divisions
Sponsored Tattered Teddies training for Prairie South School Division Counsellors as well as numerous other participants
Sponsored Safe Talk training for numerous individuals
Donated $2000.00 to Canadian Mental Health Association to support their Friends for Life Suicide Awareness and Prevention Program
Purchased the DVD packet "The Truth About Suicide" for SIAST Palliser Campus in Moose Jaw.
Accomplishing our vision of distributing a widespread publication sighting suicide awareness and prevention along with community resources to 18000 homes in Moose Jaw and community. This publication was an insert in the Moose Jaw Times Herald called "Journey To Hope"
2011
Allowed us to do great work in raising suicide awareness in the community and to support many organizations who bring hope
Posters and Pass-it-On cards for Suicide Awareness
CMHA SafeTALK training of 20 MJ Generals hockey players, SIAST Home Health Aid Students, and Riverview Hockey Academy
Hope T-Shirts for Riverview Collegiates "To Write Love On Her Arms" event
Cash Donations to local organizations who bring hope to the community.(see below)
We put an intentional focus on seniors, and on our business community by contracting a Social Worker to go to the Senior Housing facilities in our community and to major businesses in our community with Binders of Suicide Awareness and Prevention information and aoffer information sessions to those open to such sessions
Hosted a Celebrate Summer meal at Riverside Mission, as a message of hope to those with limited resources.
Supported the work of others who are working hard at hope, again giving them resources in suicide awareness…Moose Jaw Transition House; Joe's Place; and Riverside Mission.
Donated to the Canadian Mental Health Association to support their ongoing suicide prevention and awareness training workshops
Supplied Resources to the Five Hills Health Region's Wakamow Manor Detox Centre and to Angus Campbell Centre
Sponsored numerous individuals in the safeTalk and suicideTalk training programs.
2012
Provided funds for printing of Suicide Awareness Brochures produced by Five Hills Health Region
Continued Sponsoring SafeTalk Training and hosted a SafeTalk Train the Trainers Event
Sponsored a suicideCare Event
Purchased 61 Bullying Awareness Posters, providing a set for every school in the Prairie South School Division and Holy Trinity Catholic School Division
2013
Gave monetary support to front line Hope Ambassadors in our community: Canadian Mental Health Association; Riverside Mission; Moose Jaw Transition House
Sponsored a 32 page Newspaper "PonyTab" for Drug Awareness week with distribution of November 20, 2013 in cooperation with the Regional Intersectoral Committee's Drug Strategy Healing Continuum Committee. This production of 20,000 copies went to every household in Moose Jaw and all of the outlying rural areas of this region.
500 HOPE pens were purchased for distribution as a message of HOPE to recipients
Subsidized a CISM (Critical Incident Stess Management) training event hosted by Moose Jaw Police Service. This event had a full registration and our subsidy enabled the attendance of the participants for a reasonable and attainable fee. Sponsored training of safeTalk
2015
We had over 175 people attend the event this year, making this our biggest ever!
To date this year Journey To Hope has raised $12,500.00 with $6667.00 in pledges and donations being brought in from the walk alone, and $2608.00 was raised in the raffle!
2016
CMHA Bugsy's Supper Fundraiser March 10, 2016: raised 1316.30 for CMHA
Sponsored Moose Jaw Pride for 750.00 Spring 2016
Donated HOPE Bracelets to MHAD Patients upon request from Counsellor.
SafeTalk Sponsorship Training of Peacock Students June 2016
World Suicide Prevention Day Sept. 10, 2016: held event at Common Café highlighting Ticket sales for Hope
Summit, selling merchandise, as well as giving away free coffee and a Bracelet to everyone from 10am to 11am.
Journey to Hope Walk 2016: September 24, 2016
Purchased 250 Bright Yellow Hope T-Shirts for "Yellow Day World Suicide Prevention Day (Sept. 10th) to sell.
Highlighted Semi-Colon Project through Journey to Hope Walk 2016 and handed out semi-colon temporary
tattoos and pencils
Sponsored Camp Fyrefly Charity Gold Tourney for 250.00 July 2016
Hosted Free Community Training: Sept. 27, 28, 29, 2016: SafeTalk (18) Tattered Teddies (23) and Straight Talk
(22)
Hope Summit 2016 (November 5, 2016): Sponsored a Community Event at Moose Jaw Public Library,
highlighting, through personal stories shared in a TED-Like fashion the topic of "Breaking Down Barriers" as a
way of inspiring Hope.
Donated Journals and pens to Hope Summit Participants
2017
Screening for Mental Health: Purchased Curriculum (later reimbursed by Mental Health and Addictions).
Purchased ongoing subscriptions: Used for screening Grade 9 Students in PSSD and HTCSD for Suicide Risk.
Sponsored and Hosted Diversity Training Event for Moose Jaw Pride March 16, 2017
Donated 100 Journals and Pens to Wakamow Detox November 2016
Sponsored SafeTalk Training at Peacock for 37 Students
Donated 200.00 to CMHA Come Together Support Group for Craft Supplies
Sponsored Promotion of Suicide Prevention Memorial Feast and Giveaway (247.50) put on by a student at Sask
Polytech in memory of her family member.
Silver Sponsor (1000.00) of Leaving Trauma Behind Conference June 2, 2017
Subsidized donation of Journals to King George School Workshop on Journaling.
Sponsored Diversity Training Event at SasPolytech facilitated by Joe Wickenhauser of Moose Jaw Pride.
Sponsored Moose Jaw Pride 750.00 March 2017
Sponsor of AXIS Youth Canada Day Event July 2017: 1000.00
Donated Journals and Pens to Journaling Workshop on Aug. 16, 2017 by Melanie Delorme
Hosted video Viewing September 7, 2017: "Missing My Brother Ted" by Paula Stromberg
Donated Bracelets to Sask Polytech for Suicide Awareness Day.
Sponsored Eyebrow Suicide Awareness Community Worship Service on World Suicide Prevention Day September
10, 2017
Journey to Hope Walk 2017: September 23, 2017
Free Suicide Prevention Workshops: September 26, 27, 28, 2017: SafeTalk ; Tattered Teddies and Straight Talk
Sponsored and Hosted SafeTalk Training for Moose Jaw Pride November 9, 2017
Sponsored U of R Mini Practicum SafeTalk Training Fall 2017
Donated 100 Journals to Wakamow Detox December 2017
2018
Partnered with Moose Jaw Pride for Trans Hope Fund: 2000.00
Partnered with Keon Garden Centre to create Suicide Help Cards to be distributed throughout the community.
Sponsored "Walk With Me" Suicide Bereavement training for those working with Indigenous People Workshop
April 4,2018 and Little Cub Training Workshop for Suicide Prevention in Indigenous Youth on April 5, 2018
Sponsored Atamiskakawek National Gathering 2000.00 April, 2018
Donated Personal Hygiene Products to Mental Health and Addictions May 2018
Journey to Hope: (November 2017-September 30, 2018): 25,262.00